HPC
In July 2016 we installed a high performance computing system (HPC). This cluster is specifically designed for pre-processing of next generation sequencing (NGS) data. However, any application that requires massive parallel processing could be implemented as well.
Hardware
The HPC consists of
33 servers (nodes) that can perform calculations,
file storage system with an effective size of 110 TB (BeeGFS file system)
fast interconnect (Infiniband FDR) that allows for fast file transfer and MPI applications
The following scheme illustrates the structure of the cluster.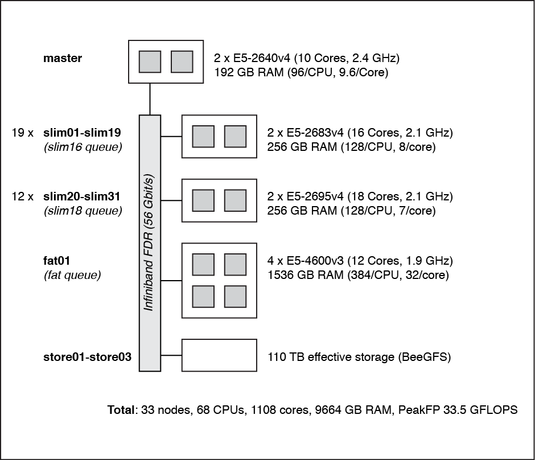 Software
Operating system: CentOS 7
xCAT (Extreme Cloud/Cluster Administration Toolkit)
SLURM (job scheduling system)
Access
All member of the BMC can get access. Please contact us for details